Business Exit Strategy: Establish Your Departure Date & Exit Goals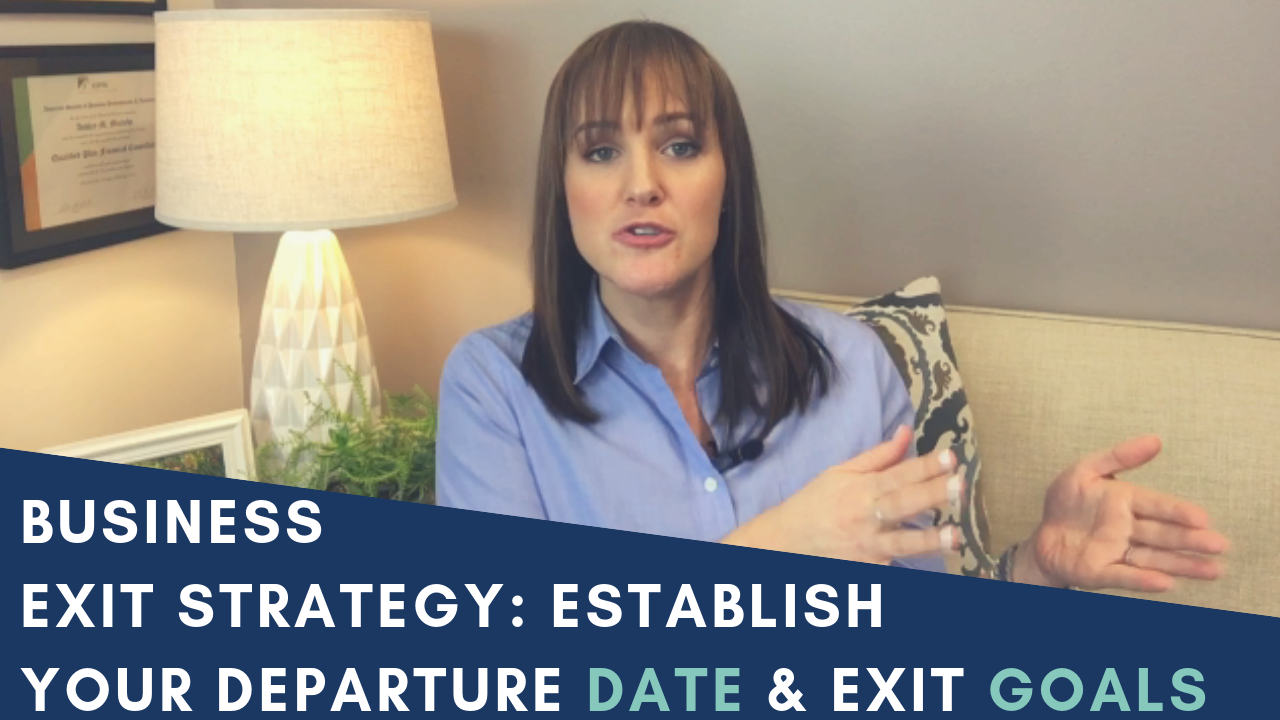 Key Takeaways
In today's blog post and video, Ashley talks about taking that second step towards your business exit strategy – establishing your departure date and exit goals.
In today's blog post and video, you'll learn:
When to get started on your exit plan (Hint: the answer might surprise you!)


5 important questions that you need to be asking yourself

 to establish your timeline for your business exit 

What it takes to get unstuck and move forward with a successful exit
Click here to watch the full video or read the full video transcript, below.
---
Transcript
You're going to have the most options available to you and you're going to give yourself the best chance of exiting your business with financial security, the earlier you start.
I talked in last week's video about the importance of valuation, I'll link to it below this video. If you missed it, I encourage you to go back and take a look at the valuation video. It's really the precursor to what we are talking about today, which is – when the heck do you want to leave your business?
Your Exit Plan – When To Get Started
The wisest business owner would start thinking about their exit plan when they're starting their business. What's the long-term plan here, what does this look like? Because it should inform a lot of the strategic decisions that you make along the way. But if you wait, like a lot of people do until they're maybe two years out from wanting to leave their business, it's too late.
I know this person and he retired last summer. He was the third-generation owner of his business and it was a successful business. The problem is, that like a lot of people, he waited until he was sick and tired of being sick and tired, before even thinking about selling his business. He ended up walking away from the business with a big fat goose egg. Nobody bought his business. He literally, closed the door and shut down a third-generation business.
If you give yourself five years, you give yourself that breathing room to take the steps necessary to exit your business as you should. And ideally, you would start it about 10 years away.
Today, I want to give you several questions so you can start thinking about what your own exit objectives are:
Questions To Ask Yourself: What Is My Involvement In The Business?
How are you involved in the business today and how do you see that involvement changing over time? Is it a gradual sort of drawing back from the business? As you do that, that sort of informs who will take your place in running the business and doing the things that you used to do once that happens.
The goal with all of this, is that you are replaceable. If you can successfully replace yourself, you're going to give your business a better chance of making it after you exit. Or, making yourself marketable to a third party who really wants a good strong management team.
Questions To Ask Yourself: When Do I Want To Exit?
The second question here is fairly obvious. When do you want to exit? Two years, five years, 10 years? What does that timeline look like? If, in an ideal world, you would stop working at this age… what age is that for you?
Questions To Ask Yourself: Do I Need To Sell My Business?
We want to know, do you have to sell your business? And if you do, do you have to sell it for a specific price?
Questions To Ask Yourself: Are There Family Considerations?
Are there family considerations? That's kind of a trick question. There are always family considerations, especially if you have family members who work in the business and other family members who don't. You might have three kids, all of them work in the business, but there's maybe only one who is truly capable of running the business. Family dynamics are such a difficult thing to navigate. It's really important and it should really be a part of those initial discussions.
Questions To Ask Yourself: Do I Want My Business To Stay In The Community?
The other important consideration really early in the process is, how important is it to you that your business stays in the community? If you are looking to sell to a third party, especially someone who is not local, there are huge shifts that can happen – both in the internal corporate and internal business environment with your employees.
If it's important to you, if you're a very community-, local-minded person, you're probably not going to be too keen on selling to somebody who lives four states away.
Navigating Your Exit – You Don't Have To Do It Alone
A lot of business owners might choose to navigate the exit of their business on their own, and that's perfectly fine. But there is so much at stake here. And we want you to make a really good decision, and take those steps necessary so that you can meet your goals with the exit of your business, and with retirement.
Here at True North, we help business owner clients exit their business and retire and transition into the next phase of their life with financial security.
So, if you're feeling a little stuck, you're not sure which step you want to take next in the exit from your business, schedule a free 15-minute exit strategy call. It's 100% free, no strings attached. we can help uncover some of these goals and talk you through some of these questions that we've been talking about today. We can help you establish what that time frame looks like, what your most important goals are, and where to go from here.
Stay Tuned…
Next Weeks Video – Business Exit Strategy: Discover Your Gap
We're doing a seven-part series on exiting your business. Last week, I talked about valuing your business. Today, we're talking about your exit timeline, what your most important goals are, and the questions you need to start asking yourself in order to establish what those goals are.
Next week, we're going to talk about how to discover your gap. I'll explain how to do that and how the size of your gap determines the steps you'll take to close your gap. 
Find out what your business is worth:
Go to truenorthra.com/valuemybusiness to get your checklist and start your business valuation today!
THANKS FOR READING!
Thanks for reading! Did this answer your questions? Did you find it valuable? Please subscribe to our newsletter below to receive future updates in your inbox!
>>CLICK HERE TO SUBSCRIBE TO OUR NEWSLETTER <<
---
Related Posts:

Disclosure: 
The views outlined in this newsletter are those of True North Retirement Advisors (TNRA) and should not be construed as individualized or personalized investment advice. Any economic and/or performance information cited is historical and not indicative of future results. Economic forecasts set forth may not develop as predicted.
Different types of investments involve varying degrees of risk, and there can be no assurance that the future performance of any specific investment, investment strategy, or product made reference to directly or indirectly, will be profitable, equal any corresponding indicated historical performance level(s), or be suitable for a given client or portfolio.
Investing in stocks includes numerous specific risks including the fluctuation of dividend, loss of entire principal and potential illiquidity of the investment in a declining market. Bonds are subject to market and interest rate risk if sold prior to maturity. Bond and bond mutual fund values and yields will decline as interest rates rise and bonds are subject to availability and change in price.
Any questions regarding the applicability of any specific issue discussed above should be addressed with TNRA. All information, including that used to compile charts and/or tables, is obtained from sources believed to be reliable, but TNRA has not verified its accuracy and does not guarantee its reliability.
Moreover, you should not assume that any discussion or information contained in the newsletter serves as the receipt of, or as a substitute for, personalized investment advice from TNRA or from any other investment professional. To the extent that you have any questions regarding the applicability of any specific issue discussed above to your individual situation, you are encouraged to consult with TNRA or the professional advisor of your choosing. All information, including that used to compile charts, is obtained from sources believed to be reliable, but TNRA has not verified its accuracy and does not guarantee its reliability.