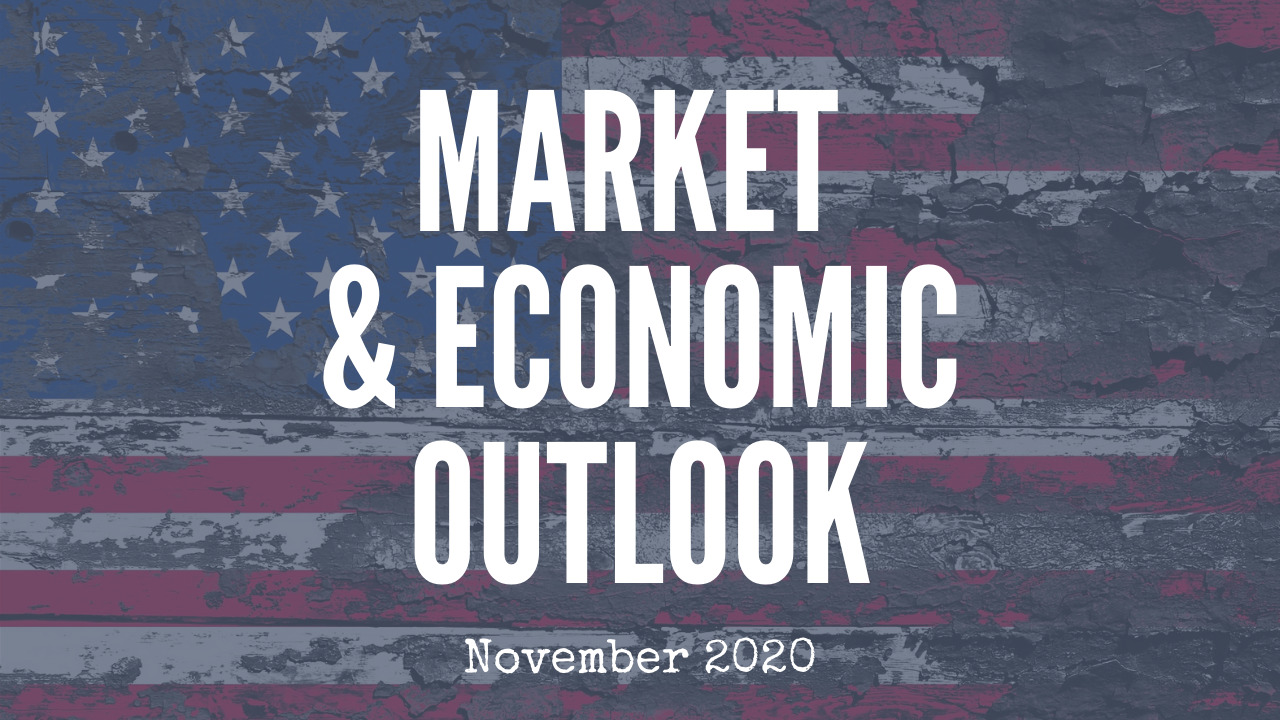 SCHEDULE YOUR FREE 15-MINUTE PORTFOLIO STRATEGY CALL >>>HTTPS://BIT.LY/2AQKMXL
In the Market & Economic Outlook, we separate the relevant from the noise, to bring you timely content that helps you on the path to and through retirement! 
STATE OF THE MARKETS (S&P 500 +10.99% YTD through 11/13/20)
Stocks tanked in late October due to record Covid-19 cases and uncertainty surrounding the Presidential election. Surprisingly, stocks rallied sharply following the election as the market celebrated gridlock.
Although stocks declined, there are several factors that are setting up a great opportunity for investors: momentum from the July economic recovery, a capital infusion from the Fed and a likely stimulus package from Congress to help the service sector along with other businesses hurt by Covid-19.
If you can see beyond the next few weeks, we believe opportunities abound!
The Presidential Election & The Market
The great investor Peter Lynch said, "far more money has been lost by investors preparing for corrections, or trying to anticipate corrections, than has been lost in corrections themselves."
Over the last few months, we've heard from many clients, media pundits, and even professional investors who were nervous about the election and were certain that the Presidential election would cause a major decline in the stock market. That proved to be untrue.
Regardless of which party wins, stocks tend to rise in the year following an election, no matter which party controls the White House and Congress.
Don't Time The Market
Trying to time the market is a very costly behavior to investors and is one of the main reasons investors significantly underperform the stock averages. And while it's tempting to try, no one has ever been able to do it reliably over an extended period of time.
A better approach, and one that we have deployed successfully over the years is to establish a target asset allocation (mix of stocks, bonds, and cash), and rebalance only when that targeted allocation is out of balance by 5% or more. This prevents market timing and helps reduce the temptation to make emotional decisions that can have catastrophic consequences.
Economic Update
Overall, the economy seems to be recovering at a steady pace despite the recent spike in Covid-19 cases. Consumer spending increased 1.4% in September, despite an elevated savings rate of 14.3% (6% is average).
In addition, the manufacturing index rose to its highest level since 2018, with the most forward-looking component at a 17-year high.
Lastly, third quarter GDP rose a record 31.4% after a record 33.1% decline in the second quarter. Although GDP dropped 5% in the first quarter, we are still 3.5% below the pre-crisis peak.
What's driving the economy now?
People shifted their typical spending on travel, recreation, and entertainment to spending on goods. Buying more stuff soared – a 59% annual rate increase in the third quarter!
But this kind of spending has a ceiling – how many laptops, refrigerators, and exercise bikes do we need?
We won't fully recover until the service sector picks up, and it will be important to watch a recovery in this sector to better understand when we will emerge from the Covid recession. We'll likely see a rebound in the service secotr and a more sustained economic recovery once Covid cases are on the decline and a vaccine has been distributed.
A recovery is looking to be more and more likely in 2021, so we are hopeful!
Investment Themes
Overseas Investing
It appears that the dollar is weakening vs. other currencies, and that trend may be with us for several years to come. Historically, when the greenback is weak and falling, foreign indexes tend to outperform. This could bode well for foreign stocks in the years to come.
Foreign indices have a high concentration of Materials, Financials, Communication Services, and Industrials. They've also tended to outperform their U.S. counterparts as the dollar declined. We are just now seeing overseas investments start to outperform domestic investments and that's why we are increasing our overseas exposure.
Small & Mid-Cap Stocks
One of the areas that has underperformed large-caps during Covid-19 are small-cap and mid-cap stocks. That's because large caps benefited greatly from gains in the technology and communications sectors. Plus, smaller companies tend to get hit harder by recessions – their revenues are more economically sensitive, and they have less means of securing capital.
Next year, small-cap company earnings are expected to grow 30% over what had been previously forecast. When the economy starts to recover, these small and mid-cap companies tend to outperform large-cap stocks by a wide margin.
Bottom Line
Despite a spike in Covid-19 cases, stocks rallied immediately following the Presidential election as the market celebrated gridlock. We believe the market is positioned to have a sustained rebound in 2021 because of additional stimulus, further action by the Fed, and economic momentum. 
---
Dave is our superstar this month! Every week, often twice a week, Dave treats the team out to coffee. In the last couple of weeks, our favorite spot has been closed. To make up for it, Dave drives to a different location and delivers that hot goodness to our desks… now that's taking care of your employees!
---
Recent & Related
 Posts:
Disclosure: 

The views outlined in this newsletter are those of True North Retirement Advisors (TNRA) and should not be construed as individualized or personalized investment advice. Any economic and/or performance information cited is historical and not indicative of future results. Economic forecasts set forth may not develop as predicted.

Different types of investments involve varying degrees of risk, and there can be no assurance that the future performance of any specific investment, investment strategy, or product made reference to directly or indirectly, will be profitable, equal any corresponding indicated historical performance level(s), or be suitable for a given client or portfolio.

Investing in stocks includes numerous specific risks including the fluctuation of dividend, loss of entire principal and potential illiquidity of the investment in a declining market. Bonds are subject to market and interest rate risk if sold prior to maturity. Bond and bond mutual fund values and yields will decline as interest rates rise and bonds are subject to availability and change in price.

Any questions regarding the applicability of any specific issue discussed above should be addressed with TNRA. All information, including that used to compile charts and/or tables, is obtained from sources believed to be reliable, but TNRA has not verified its accuracy and does not guarantee its reliability.

Moreover, you should not assume that any discussion or information contained in the newsletter serves as the receipt of, or as a substitute for, personalized investment advice from TNRA or from any other investment professional. To the extent that you have any questions regarding the applicability of any specific issue discussed above to your individual situation, you are encouraged to consult with TNRA or the professional advisor of your choosing. All information, including that used to compile charts, is obtained from sources believed to be reliable, but TNRA has not verified its accuracy and does not guarantee its reliability.