SCHEDULE YOUR FREE 15-MINUTE PORTFOLIO STRATEGY CALL >>>HTTPS://BIT.LY/2AQKMXL
In the Market & Economic Outlook, we separate the relevant from the noise, to bring you timely content that helps you on the path to and through retirement! 
STATE OF THE MARKETS (S&P 500 +4.55% YTD through 9/10/20)
We officially kicked off a new bull market when stocks rallied sharply in July and August, propelling the S&P 500 Index to new all-time highs. Historically, when a new bull market begins, the S&P 500 Index rises on average 46% over the next 12 months. The stock market and the economy still face significant obstacles, so we are not as optimistic over the next 12 months as history would otherwise suggest. We do think stocks can grind higher, but investors should expect a choppy stock market this fall and into early 2021.    
September is typically the weakest performing month of the year and 2020 was no exception with the S&P 500 down nearly 4% during the month of September. With the Presidential election only a few weeks away, we believe that stocks could drop further in the short run. We look at such an event as a buying opportunity to invest for sustained growth into 2021 and beyond.
With uncertainty in the months ahead, there are several factors that give us comfort. First, over $5 trillion sits in cash that could provide fuel for stocks. Second, the Fed will continue to expand its balance sheet and remain very accommodating until the labor market achieves full employment. Third, interest rates which are hovering near zero, will likely stay low for years to come. 
How does this affect you as an investor? This is about as good a climate as one could hope for in terms of investing in risk assets like stocks, especially those that pay a growing stream of dividends.
Economic Update
On the economic front, we remain cautiously optimistic. We've recovered nearly half of the 22 million jobs lost in March and April, with unemployment dropping from 15% to 7.9% in September. We are also seeing a slow and steady recovery led by strong retail sales and a surprisingly hot housing market. All these factors point to a significant rebound in third quarter GDP. In fact, the Atlanta Fed is projecting GDP will grow 32% in the third quarter with further strength expected in the 4th quarter!
REAL ESTATE REMAINS STRONG
Sales of existing homes are running at an annual rate of 6 million units while new homes sales topped 1 million – its highest level since 2006. The boom would be even stronger if there was more supply. Fueling the boom is the flight from the cities to the suburbs, very low mortgage rates (below 3%), and the ability in this new Covid-19 environment to work from anywhere.         
CONSUMER SENTIMENT RISES
Consumer sentiment in September rose to its highest level since March. This reading measures how optimistic consumers feel about their finances and the state of the economy. When sentiment is rising you can expect to see greater purchases of big tickets items like home appliances, cars, and homes. For business, if sentiment is improving, owners often increase inventories, expand plant and equipment, and/or increase hiring. A rise in optimism is likely to fuel further growth in the economy in the months ahead.
Investment Themes
In addition to opportunities that exist broadly in the current economic and market climate, there are several areas we are emphasizing in client portfolios: 
-INTERNATIONAL STOCKS: The U.S. dollar is weakening compared to other currencies and that trend may be with us for several years to come. Historically, when the dollar is weak and falling, foreign stocks tend to outperform U.S. stocks. In addition, international stocks have struggled to recover since the Great Recession in 2008-2009 and appear to be undervalued compared to U.S. companies.
International markets have a higher concentration of materials, financials, communication services and industrials. Historically, these sectors have tended to outperform their U.S. counterparts as the dollar declined. For these reasons, we are emphasizing an increased allocation to international stocks in client portfolios.
-SMALL & MID CAPS: One of the areas that has underperformed large-cap stocks during Covid-19 are small-cap and mid-cap stocks. That's because the large-cap stocks benefited greatly from massive outperformance in the technology and communications sectors.
However, when the economy starts to recover, these small and mid-cap companies tend to outperform large-cap stocks by a wide margin. And that's the opportunity we are taking advantage of at this stage of the economy.
Bottom Line
Stocks staged an incredible comeback in the second quarter. It now appears that the economy and the stock market have bottomed, and a recovery is underway. While setbacks are likely as coronavirus infections and deaths mount, we believe that additional stimulus, liquidity provided by the Fed, and cash being put back to work will help boost the economy and the stock market in the months ahead.
---
We are excited to announce the newest member of the True North family, Theodore Athanasius Micciche, born Saturday, September 19! Big sister Keegan and big brother Cameron are thrilled over the new baby. Ashley and Troy are doing well, maybe a little sleep deprived, but are happy to be a family of 5!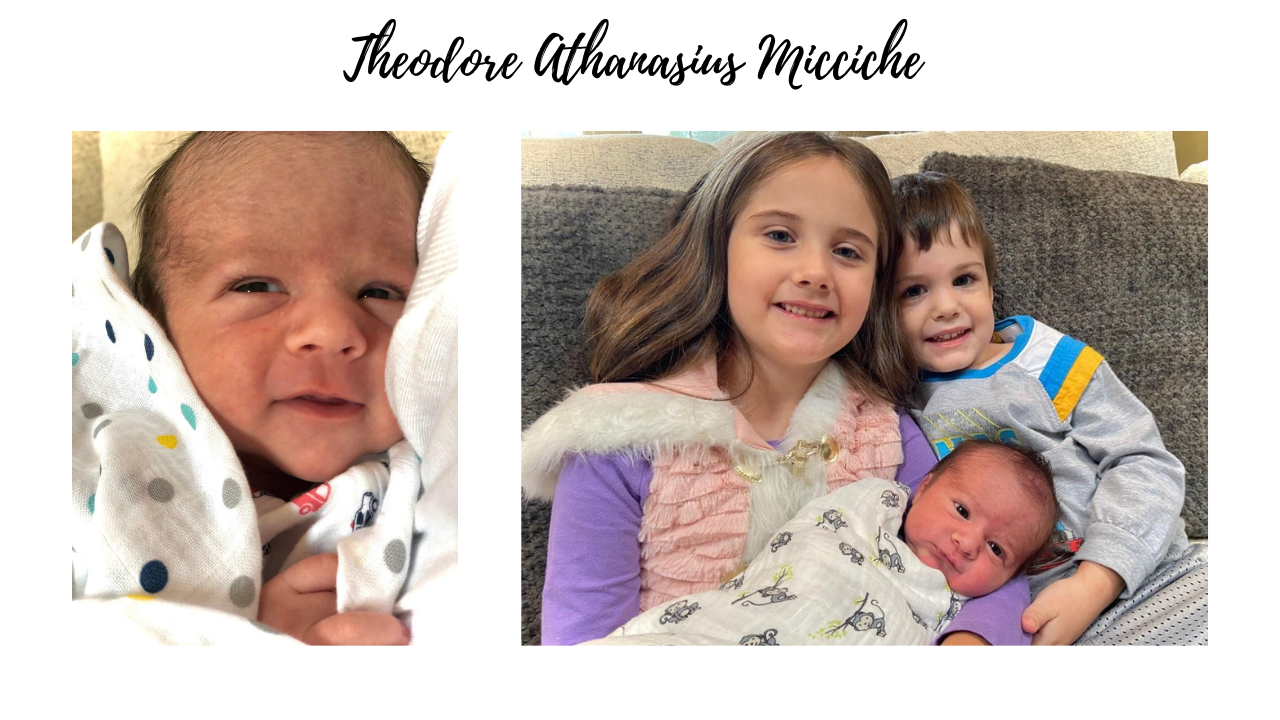 ---
Recent & Related
 Posts:
Disclosure: 

The views outlined in this newsletter are those of True North Retirement Advisors (TNRA) and should not be construed as individualized or personalized investment advice. Any economic and/or performance information cited is historical and not indicative of future results. Economic forecasts set forth may not develop as predicted.

Different types of investments involve varying degrees of risk, and there can be no assurance that the future performance of any specific investment, investment strategy, or product made reference to directly or indirectly, will be profitable, equal any corresponding indicated historical performance level(s), or be suitable for a given client or portfolio.

Investing in stocks includes numerous specific risks including the fluctuation of dividend, loss of entire principal and potential illiquidity of the investment in a declining market. Bonds are subject to market and interest rate risk if sold prior to maturity. Bond and bond mutual fund values and yields will decline as interest rates rise and bonds are subject to availability and change in price.

Any questions regarding the applicability of any specific issue discussed above should be addressed with TNRA. All information, including that used to compile charts and/or tables, is obtained from sources believed to be reliable, but TNRA has not verified its accuracy and does not guarantee its reliability.

Moreover, you should not assume that any discussion or information contained in the newsletter serves as the receipt of, or as a substitute for, personalized investment advice from TNRA or from any other investment professional. To the extent that you have any questions regarding the applicability of any specific issue discussed above to your individual situation, you are encouraged to consult with TNRA or the professional advisor of your choosing. All information, including that used to compile charts, is obtained from sources believed to be reliable, but TNRA has not verified its accuracy and does not guarantee its reliability.